When most people think about gaining weight, it is seen as an unacceptable thing there is no denying that obesity is a rampant problem in the world today. and More than half of the world is obsessed with losing weight, but what happens if you want to gain weight?  Gaining weight is a difficult and frustrating process.
However, there are some people who actually need to gain weight for a variety of reasons. Whether you are a Hollywood actor packing on some pounds for a new role or a college athlete that wants to bulk up for the upcoming season,
Gaining weight is a challenge for many people. Forget cheeseburgers, if you want to gain weight in a healthy way! – Gaining healthy weight is a gradual process. It takes time and patience.
it is important to know how to gain weight in a healthy, manageable way. Also, when recovering from an injury or an illness, which often causes a drop in body weight, gaining weight in a healthy way is very important.
So Today For this Particular Reason we are Going to Reveal 10 Amazing ways to gain weight naturally.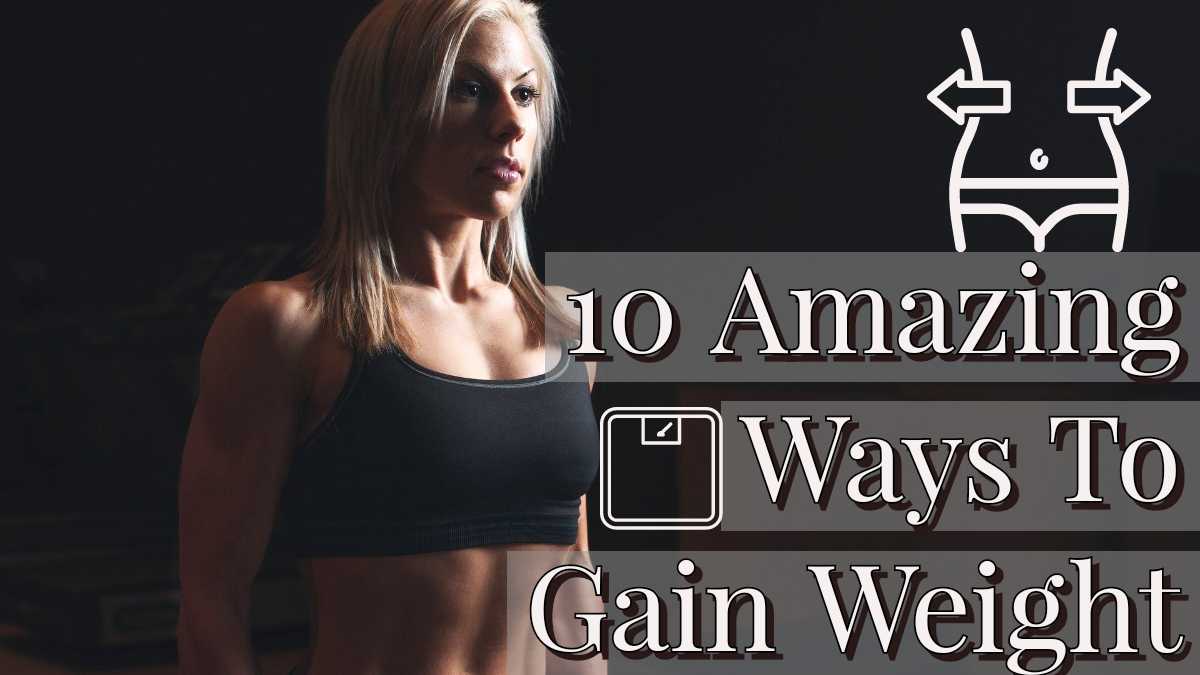 10 Amazing ways to gain weight naturally. 
Eat protein-rich food
Consume energy-dense foods
Take dietary and workout supplements
Training exercises and Yoga
Drink more calories
Limit water intake during meals.
Focus on the quality and not just the quantity.
Use bigger plates
Get quality sleep
Don't smoke
Eat protein-rich food

You Should Eat protein-rich food like Greek yogurt, Cottage cheese, Swiss cheese, Eggs, Milk, Steak, Ground beef, Chicken breast, Turkey breast, Peanut butter, Nuts, Green peas, and Grains. and if you know more about protein-rich food so you read this blog Best 43 High Protein Foods That Help You Keep Fit and Slim

Consume energy-dense foods

High-density foods are those that have a lot of calories per unit of weight. These are Butter, Full-fat milk, Cream, Salami, Pepperoni, Sausage, Junk foods, Potatoes, Pasta, Bagels, Bread, Rise, and most cheeses.

Take dietary and workout supplements

Take diet and workout supplements like Vitamin D and Fish Oil, Creatine is one of the most researched and widely used supplements to enhance muscle building and strength. It is responsible for improving energy to cells within the body and keeping our cellular functions in balance.
Creatine is naturally occurring in the body but is also found in foods like meat, dairy, and eggs.

Training exercises and Yoga

Yoga addresses problems like poor metabolism, stress, lack of appetite, and digestive issues. While it helps overcome these problems, it also stabilizes weight and ensures you hit the right weight goals. Yoga enhances the circulation of oxygen and blood, and this helps improve nutrient absorption. It strengthens the muscles and allows you to become strong and flexible. It also improves your stamina.
It is essential to note that yoga works mainly toward regulating your metabolism. Also, you must support these exercises with a nutrient-dense diet.

Drink more calories

Eat more calories as you can savor the following drinks
Smoothies and Protein Shakes
Low-Fat Flavored Yogurt
Fresh-Pressed Juices
Flavored Coffees
Diet Soda
Sports Drinks
Coconut Water

Limit water intake during meals

Limit water intake during meals. You should consume limited water while eating food because drinking more water while eating is not good for your health.

Focus on the quality and not just the quantity.

Focus on quality and not just quantity. Good quality food makes your health right and the quality of food in our life is very important as long as you do not give good quality food to the body until you develop and you will get good energy.

Use bigger plates

Using larger plates can lead to more food.

Get quality sleep

Get quality sleep which gives your body time to develop which increases your body weight and healthy adults need between 7 and 9 hours of sleep per night.

Don't smoke

Smoking cigarettes causes cancer, heart disease, stroke, lung diseases, diabetes, and chronic obstructive pulmonary disease (COPD), which includes emphysema and chronic bronchitis. Smoking also increases the risk of tuberculosis, certain eye diseases, and problems with the immune system, including rheumatoid arthritis.
you read this blog  for Smoking cigarettes is harmful and avoid smoking will give immediate benefits to the body
If you like this post, then share it and follow us on Instagram (@Basicofscience) many thanks for coming to our site Basic of Science, keep visiting our site for tips related to such health.
Disclaimer: Story tips and suggestions are for general information. Do not take these as the advice of any doctor or medical professional. In the case of symptoms of illness or infection, consult a doctor.