Due to this eye disease, a person can become completely blind if its treatment is not started on time. Due to cataract or glaucoma, a person can see the front view clearly but there is darkness all around. If timely treatment of glaucoma is started, then eyesight can be saved.
Let's know about it-
What is glaucoma?
Glaucoma is a disease occurring in the eyes. Glaucoma is also known as black cataract or Kala Pani of the eyes in Hindi.
Due to glaucoma or cataract, the light of the eyes gradually disappears completely.
This can also be one of the reasons for the decrease in eyesight.
Glaucoma or black cataract (Glaucoma in the eyes) can happen to a person of any age.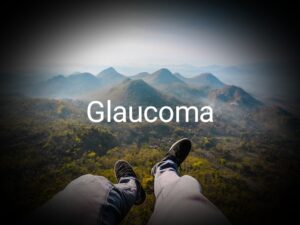 How does Glaucoma happen?
Our eye is round and filled with fluid and a jelly-like substance. Due to which the eye is made in a circular shape. If this material is removed, it will deflate. This substance is called Aqueous humor and Vitreous humor.
The normal pressure or pressure of the eye is between 10 to 21 mmHg.
If the amount of this substance increases in the eye, then the eye becomes hard due to which the pressure in the eye increases.
The increased pressure caused by the substance exerts pressure on the retina and is linked to the nervous system. Due to which the nervous system gets damaged and the eyesight gradually decreases.
Who can get glaucoma
Glaucoma can also be caused by cataracts. When the cataract ripens too much and it is not removed by operation, it bursts inside the eye. Due to which the pressure of the eye increases very much and it becomes glaucoma or black cataract.
A person becomes completely blind due to glaucoma.
Glaucoma can also occur due to heredity, so those people whose parents had glaucoma should be regularly examined.Glaucoma can also occur in the newborn.
Those people whose glasses number is in minus or whose glasses number is changing frequently. They may also have glaucoma. Such people should get tested for glaucoma.
Symptoms of Cataract and Glaucoma (Kala Pani)
Some symptoms that can save us from black cataract or glaucoma. Let us know what those symptoms are.
severe eye pain

loss of vision

severe headache

blurred vision

cataracts

vomiting

persistent dark eyes

heavy water

dark circles around the scene

red eye
treatment of glaucoma
Vision lost due to glaucoma cannot be regained. But if detected at the right time, it can be stopped there, so that the rest of the light can be saved.
If you are not taking any medicine for a long time or more than 5 years of black cataract disease, then gradually the eyesight will be completely lost and the person will become completely blind, which cannot be treated by anyone. Glaucoma blindness can be prevented if the person is taking some medicines.
glaucoma surgery
For the treatment of glaucoma or cataract, eye pressure is reduced by surgery so that it can be stopped here so that the remaining light can be saved.
The vision that has gone is that even after the operation of glaucoma, the eyesight does not come from it.
eye drops medicine
To save the eyesight from Glaucoma, medicine may have to be taken for the whole life.
There are medicines for some glaucoma called antiglaucoma drugs. Which can prevent black cataract by reducing the pressure of the eyes, let's know-
Anti-Glaucoma Drugs
1.prostaglandin analog
Beta blockers

Sympathomimetics drugs or adrenergic agonists

Parasympathomimetics drugs

Carbonic Anhydrase Inhibitors

Calcium channel blockers

Fiber Osmotic Agent
All these Glaucoma medicines are given as per the advice of the doctor.
How to avoid Glaucoma?
To avoid cataract or glaucoma, take your eye exam. You should keep on doing it.
Apart from glaucoma, this can also prevent many other types of diseases.
What to eat and drink in Glaucoma?
Glaucoma has nothing to do with food. But water should not be drunk immediately after applying the hyperosmotic agent drug Mannitol because drinking water increases eye pressure.
What is glaucoma corticoid disease?
Due to glaucoma corticoid disease, the person becomes completely blind and he does not see anything.Along with this, he may have to face many types of problems such as headache, severe eye pain, red eye, very low eyesight etc.
glaucoma week
Glaucoma week is celebrated all over the world from March 10 to March 16.
During Glaucoma week people are made aware to avoid Glaucoma. So that more and more people get information about it and they do not become blind.
During this, the nervous system is regularly examined to see if there has been any damage due to the pressure in the eye.
Question: Can the operation of black eyes be done in your hospital, if yes, how much will it cost for one eye operation?
answerBlack eye surgery is done in almost all eye hospitals in India. You can be treated for it at very low cost or free of cost in a government hospital and if you get it treated in a private hospital, then its cost is according to the operation.
Eye Hospital in Jaipur:
Charak Bhavan, s.m.s. Hospital Jaipur Rajasthan – Eye Services like Retina Clinic etc.

Shree Balaji Netralaya,Agra Road,Jaipur,Rajasthan

Sahay Hospital Bhabha Marg, Moti Dungri, Jaipur, Rajasthan – Sahay Eye Hospital

Kabra Eye Hospital

Anand Eye Hospital Jaipur

Jaipur Calgary Eye Hospital

Retina Care Foundation And Eye Hospital

Center for Sight Hospital etc.
Question: Which eye tests can be done at Gandhi Eye Hospital?
answer: Number of spectacles in Gandhi Eye Hospital, Regular eye check-up, Eye care tips, NCT, Vitreo retinal diseases, Laser for retinal diseases, Phacoemulsification, Glaucoma services, Artificial eye prosthesis Implantation (lens implantation), Contact lens fitting etc. are checked.